Want to explore Christianity?
If you have questions about life and faith then we run the Alpha Course. The course is completely free of charge and is designed particularly for people who wouldn't normally go to church but want to explore some of the bigger questions of life, such as whether God is real, why suffering exists, and what life is really all about.
Our Alpha course is a series of 10 evenings. Each evening consists of:
1. Meal – a chance to get to know others, relax and enjoy yourself
2. A talk – each evening there is a talk addressing a key issue relating to questions about life
3. Discussion – this is your chance to discuss what you've heard, share your views, and ask anything you like. No question is too simple or too aggressive!
Our next course launches on Wednesday 15th January 2020, we would love for you to join us for a special Comedy and Curry Night
Comedian, Joy Carter will be joining us for what promises to be a fantastic evening of fun and food. Joy is an established UK stand-up comedian and has been in great demand since turning professional in 200. By 2008 her talents were recognised when she was nominated for an EMMA (Ethic Multicultural Media Award).
Joy's comedy style is quirky, clean, observational humour with personal topics including her unique overseas adoption experience, politics and creative musical jokes.
'So Brilliant' Jo Brand. Comedian
'Her comic style certainly makes her one to watch out for' Daily Mail
'From the second it started we were hooked! We would highly recommend it' Helen Stead, NCF Comedy Festivals.
'Edgy observational humour' Joan Fletcher, Goldsmiths University
See www.joycarter.co.uk for more
Tickets are free but booking is essential.
Book in here... https://jubileehull.churchsuite.co.uk/events/5gimls3p
For more information please contact the church office on 01482 328196 or email alpha@notdull.org.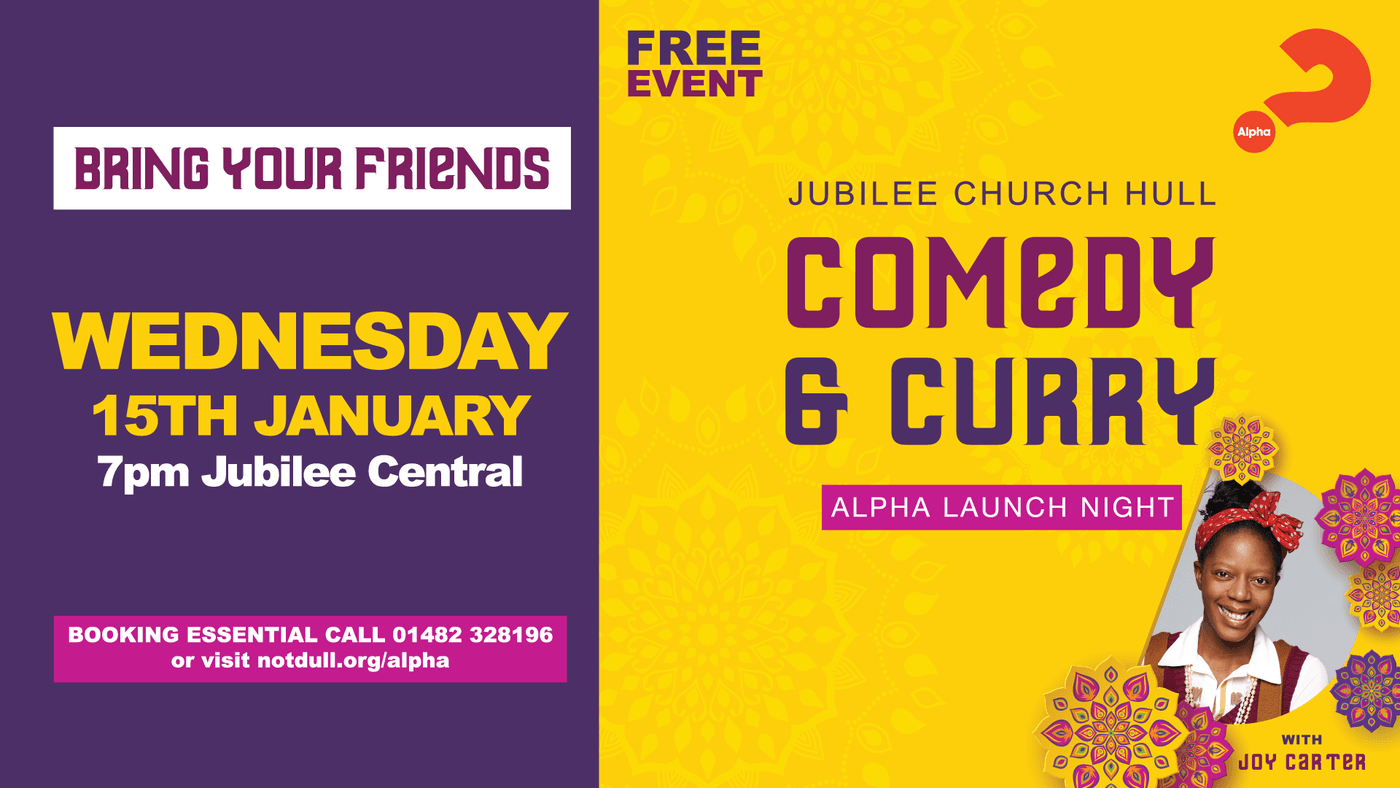 Shaun who recently completed the Alpha Course says:
"I recommend Alpha to anyone. You will have your questions answered with no judgement. Being on Alpha made me feel I belonged somewhere and everyone has made me feel so welcome. Through the friendly atmosphere and helpful hosts of the course, I met with Jesus Christ who has filled the hole that I always had missing and made me feel whole again".
Gail says:
Doing the Alpha Course is an awesome place to start exploring Christianity and have your questions answered. I took the step of attending and cannot recommend the course enough. I witnessed God's love and found what he says to be true. I have made new, lasting friendships and my sister and I were baptised at Jubilee Church in April. I would love to share the story of what God has done in ordinary people's lives like me and my sister, so please come to our next course.
For more information on Alpha, or to find a course near you if you live too far from Hull to join ours, please visit www.alpha.org
Got questions?
If you have further questions concerning our Alpha course, simply complete the form below and click the submit button to get in touch with us!
"I am always welcomed with open arms & love. I feel really at home when I'm there, all the people I've met so far are really friendly, happy & helpful."
John Morgan